ITB Members
Abhishek Upadhyay (Abi)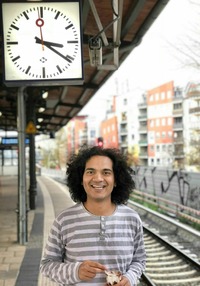 About
Researcher ORCID: https://orcid.org/0000-0003-0046-1168 Email: abhibiotechnologist@gmail.com ☎: +4930 2093 98410
Inter-multi-disciplinary researcher | Music,Humour,Sports,Snow,Nature | Science communicator | Photography enthusiast

Education & Research experiences
Ph.D (Chronobiology, Systems Biology, Mathematical Modelling, Nonlinear Dynamics, Model-organisms: Spyder Python 3.6 & Fungi) in supervision @Charite & Humboldt University of Berlin & co-supervision @Heidelberg University, GERMANY
Predoctoral Fellow (early evolution) @University of Witwatersrand (Wits), Johannesburg, SOUTH AFRICA
M.Phil (Marine Biology, Ecology, Biomineralization, Proteomics, Bioinformatics, Ocean Acidification, Climate Change, Model-organism: Oyster) @University of Hong Kong (HKU), HONG KONG
Research Fellow (Evo-Devo, Genetics, Multicellularity, Model-organism: Social Amoeba) @Indian Institute of Science (IISc), India
B.Engg (Biotechnology Engineering), INDIA


"Timing matters !"
THEORETICAL CHRONOBIOLOGY GROUP MEETINGS DIRECTORY
[seminar of the Hanspeter Herzel Group (https://itb.biologie.hu-berlin.de/wiki/groups/herzel/start and https://scholar.google.com/citations?hl=en&user=4uT7ljsAAAAJ). we meet every Tuesday at 14:45 in the Haus4 seminar room(s) of the ITB unless stated otherwise! PS: list before 05.12.2017 has been compiled by Christoph (https://itb.biologie.hu-berlin.de/~schmal/4_Seminar.html), since 05.12.2017 taken over by Abi (https://abhiup01.wixsite.com/abhi)]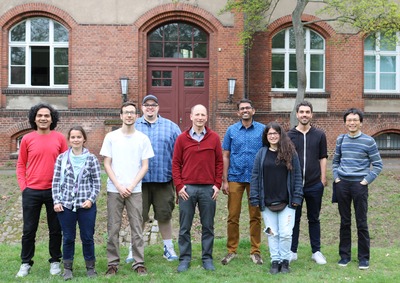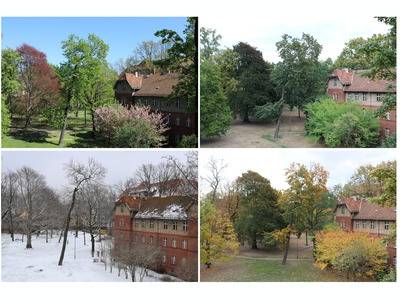 03.12.2019
Andreas (Dresden)
The mathematics of brain tumour invasion and progression

19.11.2019
No meeting
Raghavendra's talk at ITB seminar

12.11.2019
Hanspeter
brainstormings

05.11.2019
Gregor (Heidelberg)
Spatially resolved Wavelet Analysis of SCN slices

29.10.2019
Hanspeter, Christoph & Bharath
PRCs, jet-lag, seasonality: data and models

22.10.2019
Leylanur
Tissue-specific regulation of clock-controlled genes- Learning from MyoD1 in muscle
Abhi
impressions from LASC-2019 meeting

15.10.2019
Anna
Potential mechanism of intercellular coupling between peripheral circadian oscillators

24.09.2019
Nikhil
Heritable gene expression variability governs clonal heterogeneity in circadian period

17.09.2019
Anne
Statistical Analysis of Circadian Rhythms in Mice Liver under Different Diets

03.09.2019
Hanspeter
impressions from EBRS, Lyon https://www.ebrs2019.com/

13.08.2019
Sara (Zurich)
The Forebrain Synaptic Transcriptome Is Organized by Clocks, but Its Proteome Is Organized by Sleep

30.07.2019
Literature seminar
everyone

23.07.2019
Gordon and interesting papers/reviews
Gordon Chronobiology 2019 conference impressions

02.07.2019
Muge
Update on master thesis: Time Series Analysis of Circadian Rhythms in Single Cells– Effect of Cell Cycle

18.06.2019
Peter (Newzealand)
Origin of genetic coding and deep phylogeny of aaRS coding enzymes.

28.05.2019
Hanspeter
Lecture: Simulating stochastic oscillations

21.05.2019
Bharath
Analysing circadian datasets at ultradian timescales.

07.05.2019
Christof's lab
Discussion about experimental data and modelling.

30.04.2019
Patrick's PhD defense
Systems level generation of mammalian circadian rhythms and its connection to liver metabolism.

25.04.2019
Patrick's rehearsal
rehearsal on 14:00.

23.04.2019
Claudia (Münster)
The analysis of resource allocation in the genetic material as a tool to link molecular evolution to ecosystems biology.

16.04.2019
Marta
Discussion/presentation about the next (2nd and 3rd) projects.

09.04.2019
Abhi
Discussion/presentation about the next (2nd and 3rd) projects.

19.03.2019
Brainstorming with Hanspeter
How to write research papers, project thesis.

05.03.2019
Müge
The phase shifting effects of Cisplatin on Single Cell Traces

12.02.2019
Dieter
topic of his interest

05.02.2019
Brainstorming with Hanspeter
Scientific career : goldmine or minefield

29.01.2019
Marta
Ojalvo model: spontaneous synchronization due to quorum sensing

22.01.2019
Discussion: Hanspeter, Marta and Abhi
Some interesting fundamental biochemical oscillators

15.01.2019
Erich (Muenster)
Brainstorming with Bornberg-Bauer - everybody could present his/her project briefly

08.01.2019
Jan
Bachelors Thesis (Uwe Ohler Group @MDC Berlin): Revealing the regulatory effect of RNA-binding proteins on transcript abundances in single cell studies

Happy New Year 2019

27.11.2018
Janita
Masters rotation: Nonsinusoidal transcription rhythms in the mouse liver


20.11.2018
Discussion: Hanspeter & Christoph
Some interesting fundamental biochemical oscillators


07.11.2018
Dorothee (Bielefeld)
Everyone's brief presentation of their project's state of the art


30.10.2018
All
Literature seminar


23.10.2018
Hanspeter
Lecture: Understanding diffusion, super diffusion and sub diffusion using the Kubo formula


16.10.2018
Hanspeter
Lecture: Time series analysis: ARIMA models


09.10.2018
Pablo (Kassel)
Multi-scale electrical activity in Cockroach circadian clock


08.10.2018
Kwangwon (USA)
Fitness in a microbe: how the circadian clock is shaped by the environment


18.09.2018
Hanspeter
Lecture: Floquet multipliers and intermittency


11.09.2018
Isao (Japan)
Single cell analysis of Arabidopsis circadian clock and its mathematical modeling


04.09.2018
Hanspeter
Lecture: Fractal basin boundaries


31.07.2018 to 28.08.2018
Summer Holidays Intermission
Group meetings would resume from 04.09.2018


17.07.2018
Elmir
Master thesis report: Modelling of gene regulatory network in mammalian circadian clock


10.07.2018
Hanspeter and others
Literature seminar


03.07.2018
Bharath, Patrick, Marta, Abhi and Hanspeter
Impressions from the SRBR Florida, EMBL Heidelberg, Solvay Brussels


26.06.2018
Hanspeter
Impressions from the SRBR Florida conference


19.06.2018
Pietro
Bachelors thesis project: A mathematical model of cannabinoids' kinetics in dairy cow's milk


12.06.2018
Christoph
Dissociation of Bmal1 and Per1 rhythms (results from the work being done in Japan)


29.05.2018
Hanspeter
Lecture: How to write a thesis?


22.05.2018
Anton
Masters thesis project: Emerging properties of systems of oscillators in regard to SCN desynchronization


09.05.2018
Wolfram
Master Thesis (@EBI Cambridge, UK) defense: Gene un-prediction: Developing a new method to identify spurious protein sequences


24.04.2018
Tanmay
Emergence of memory and learning in intra-cellular signaling networks:where reverberations meet Arnold tongue


17.04.2018
General discussions
Papers, meetings feedbacks, next!


03.04.2018
Abhi, Marta
Project's state of the art


27.03.2018
Hanspeter
Lecture: Numerics of Ordinary and Stochastic Differential Equations (ODEs and SDEs)


20.03.2018
Philipp
Defense: Master's Thesis
Patrick
Manuscript discussion


06.03.2018
Elmir
Project: state of the art


20.02.2018
Bharath
Paper: Positive Feedback Promotes Oscillations in Negative Feedback Loops http://journals.plos.org/plosone/article?id=10.1371/journal.pone.0104761#abstract0


30.01.2018
Anton
Introduction of himself & recent masters project


23.01.2018
Hanspeter
Lecture: Harmonics and ultradian rhythms


16.01.2018
Christoph
Choroid plexus as an important circadian clock


09.01.2018
Abhi
Paper: DNA Replication Is Required for Circadian Clock Function by Regulating Rhythmic Nucleosome Composition https://www.ncbi.nlm.nih.gov/pubmed/28648778.


02.01.2018
New Year 2018 Welcome, Group Meet


19.12.2017
Hanspeter
Lecture: Probability density


12.12.2017
Bharath
Analysis of neuronal spikes data


05.12.2017
Hanspeter
Lecture: Fat Fractals


27.11.2017
Takayuki
TBA


14.11.2017
Abhishek
State of the art of project mathematical modleling of Neurospora circadian clock


07.11.2017
Philipp
Temperature entrainment in Neurospora crassa


24.10.2017
Lars
Predictability of circadian transcripts via ChIP-seq analysis


17.10.2017
Marta
TBA


10.10.2017
Adrian
Circadian Clock & Cell Cycle: Effects on Breast Cancer Radio and Chemotherapy


26.09.2017
Wolfram
Predicting ribosome stalling events and their linkage to protein secondary structure


05.09.2017
Christoph, Hanspeter
Gordon, USA and EBRS, Amsterdam Meetings Reports


29.08.2017
Isao, Bharath, Hanspeter
Gordon Meeting Report https://www.grc.org/chronobiology-conference/2017/


22.08.2017
Abhi (Poster Abstract P142), Marta, Patrick
Gordon and EBRS Meetings Reports http://www.nin-meeting.nl/


11.07.2017
Carl H. Johnson (USA)
Temperature and Metabolic Compensation


07.07.2017
Everyone
Their projects briefly to Carl Johnson


27.06.2017
Carl H. Johnson (USA)
Is the TTFL the Core Circadian Pacemaker? An Alternative Perspective


30.05.2017
Abhishek
Paper: The frequency natural antisense transcript first promotes, then represses, frequency gene expression via facultative heterochromatin http://www.pnas.org/content/112/14/4357.long


23.05.2017
Sarah
Paper: Nuclear Proteomics Uncovers Diurnal Regulatory Landscapes in Mouse Liver http://www.cell.com/cell-metabolism/abstract/S1550-41311630534-4


09.05.2017
All
Symposium on Theoretical Chronobiology, Lille, France


18.04.2017
Bharath
Paper: Phosphorylation Is a Central Mechanism for Circadian Control of Metabolism and Physiology http://www.sciencedirect.com/science/article/pii/S1550413116305356


28.03.2017
Patrick
Snakemake


21.03.2017
Christoph
Quantifying Coupling Strength of Circadian Oscillators


14.03.2017
Patrick
Circadian clock and liver metabolism


07.03.2017
Isao Tokuda, Japan
Variable entrainment property of Arabidopsis circadian clock by collective phase sensitivity


28.02.2017
Abhishek
Neurospora crassa: introduction of its biology, circadian clock & mathematical models


14.02.2017
Layal
RNA-seq data analysis, differential gene expression and alternative splicing


07.02.2017
All
Literature Seminar


31.01.2017
Martin
Circadian activity of two Drosophila species


17.01.2017
All
Literature Seminar


20.12.2016
Jihwan Myung, Taiwan
Philosophizing and Physiologizing on Time and Mood in the Brain


12.12.2016
Hanspeter
Maximum-Entropy Principle


06.12.2016
Hanspeter
Modeling diffusion processes


22.11.2016
All
Literature Seminar


08.11.2016
Matthias
TBA


02.11.2016
Bharath
Analysis of Circadian Cellular Bioluminescence Recordings using a Kalman Smoother


25.10.2016
Sarah
Mitochondrial Network Morphology


18.10.2016
Patrick
Vectorfield Optimization


04.10.2016
Hanspeter, Patrick
Impressions From the ICSB Spain Meeting http://www.crg.eu/sites/default/files/ICSB2016_anuncio%20A4_29-01-2016_0.jpg


27.09.2016
Bharath
Quantifying firing properties of VIP neurons


12.07.2016
Felix
Verteidigung Masterarbeit


28.06.2016
Hanspeter
SRBR USA Summary https://srbr.org/wp-content/uploads/2015/10/SRBR-2016-Program-Book-with-abstracts.pdf


21.06.2016
Abhishek
Masters presentation cum PhD interview